How would you feel if one of your important file from Windows PC is been deleted?
Users store a number of files containing various formats in the Windows disk partitions. Nonetheless, there encounter some unfavorable situations when some important files are been erased or lost from it. It could be accidental deletions, corruptions, virus threats, malicious applications, emptied recycle bin folder and so on that lead to deletion of Windows files. Upon this, users fail to locate lost or deleted folders anywhere in the Windows system.
Well, there is no such thing to worry about the missing and deleted files. One can easily overcome data loss with the expertized tool known as the Windows File Recovery. This application is built with an easy-to-use interface that offers safe and convenient file recovery process. Windows File Recovery is one such strong and trustworthy software which restores all types of files at a single go. You can also utilize this easy to use tool to recover photos on Windows laptops and desktops without any difficulty.
Prior to discussing Windows file recovery process, it is good to know how data gets lost or deleted. Some of the common data loss scenarios are listed here.
Sometimes while repartitioning or deleting Windows HDD using the Disk Management tool, if you accidentally delete some other HDD partition apart from which you are intended to delete. In case if the backup of data stored on the deleted partition is not available, then it leads to a huge loss of all the files stored in the Windows hard drive.
Sometimes a hard drive crash or OS crash leads to loss of files saved under the Windows hard disk partitions.
The file system breakdown or virus infection results in corruption to the drive partitions. This, in turn, prompts the user to format the drive.
Irrespective of the cause, this efficient tool will rescue all types of files from Windows computers in a few minutes. This tool also has a capability to perform file recovery after a system crash on all the latest versions of Windows OS. It also facilitates you to add/edit file signatures which are not listed during the file recovery process. In addition, you can use this software to recover data lost after reinstalling Windows 10, 8 & 8.1, 7, Vista, XP, Server 2003 & 2008. Additionally, if you have lost your precious files after reverting back from Windows 10 Pro to Windows 10 Home, you can utilize this tool to recover files lost after reverting back to Windows 10 Home from Windows 10 Pro with utmost ease.
Complete procedure to recover lost/deleted files on Windows OS:
Step 1: Launch the software on your Windows PC.
Step 2: Select "Recover Files" option on the main screen. Now choose the drive from where the files are been lost or deleted. Click on the Scan button.
Step 3: The tool begins to scan for the files in the selected partitions.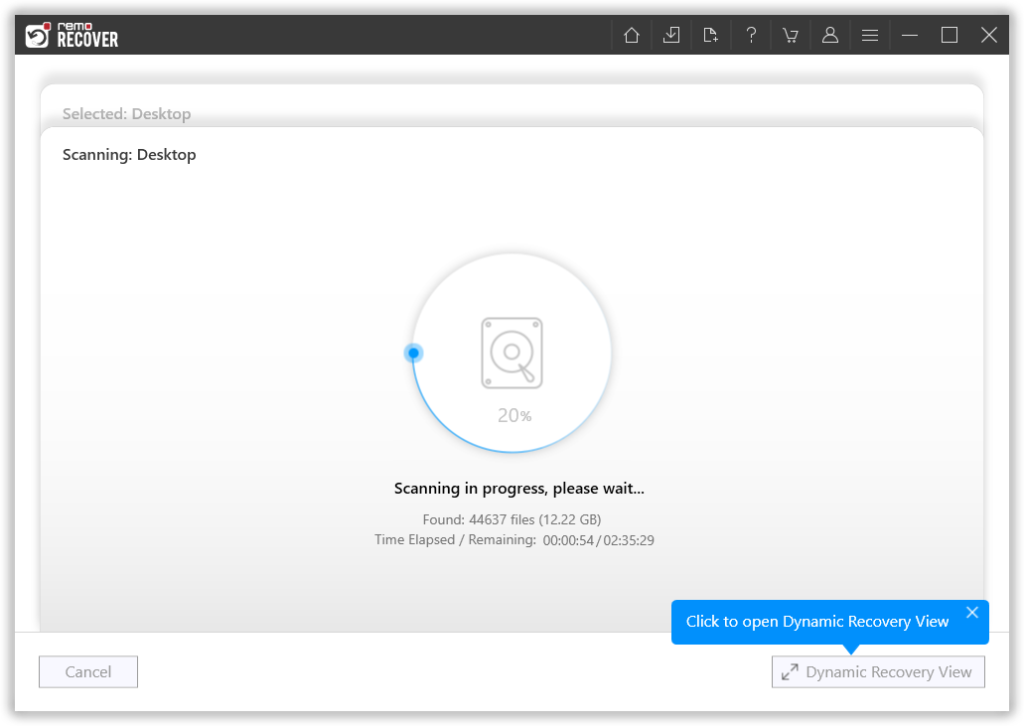 Step 4: All retrieved files will be listed in "Data View" and "File Type View" layouts.
Step 5: Preview the file by right-clicking on the file items in the given list.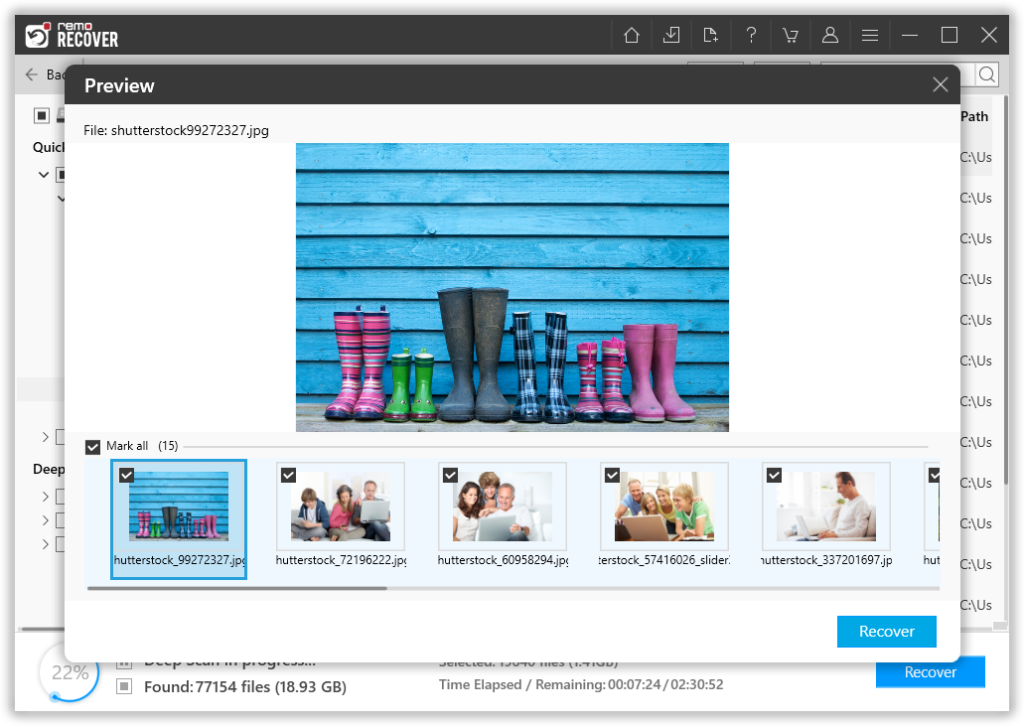 Step 6: Use the activated version of the software to continue saving all the files recovered from the Windows partitions.