SD Card Not Detected on Windows 10
A number of Windows 10 users' encountered SD card not working error after the Windows 10 upgrade. As a result, the card will not be detected by Windows 10 system. Behind this problem, there could be a number of reasons:
Driver issue
Malware attack
File system corruption
Not formatted properly
Mishandling of the card
These can be some of the reasons behind the SD problem. One must take the right action to recover files from corrupted SD card. There are a number of methods to resolve this problem. So now, let's learn how to make the SD card detectable:
Method 1: Check Windows 10 USB Slot
If SD memory card is not showing up in Windows 10 then, you can insert SD card to a USB card reader and plug it to the USB port and check whether it works fine. If it works well the problem is solved, if not then try connecting the card to another computer and check. If this didn't solve your problem then go ahead with the next method.
Method 2: Update SD Card Driver
This method is simple, go to device manager and locate the card reader. If it contains a yellow sign beside it, then it is clear that this problem is caused due to the driver issue. So for that, you must update the driver. To do that, follow the below-given steps:
Insert the SD card to the system
Navigate to Control Panel
Then, Select System> Device Manager> Disk drivers
Locate the SD card and right click on it and select Uninstall> Scan for hardware changes to refresh the drives
Method 3: Take help of Disk Management to make SD card detected
Insert SD card to PC
Open Disk Management tool
Press "Windows + R"
Type "diskmgmt.msc" and enter
By using the above methods, if you are SD card is able to detect on your SD card then your problem is solved here. However, sometimes after these methods, you won't be able to access your data from card or data will be lost from this in that situation, you can make use of Windows File Recovery software.
The simplest method to restore files from undetected SD card on Windows 10 system
Step 1: Launch the software and select "Recover Files" option.
Step 2: Make sure that you have connected the SD memory card to the Windows computer. Now you need to choose the logical drive on the system that represents the SD card.
Step 3: Hit on the Scan option and begin recovering files from the SD card.
Step 4: The SD card is deeply scanned for the files that are lost or deleted.
Step 5: The scan results now appear on the screen. The files will be listed in "Data View" and "File Type View"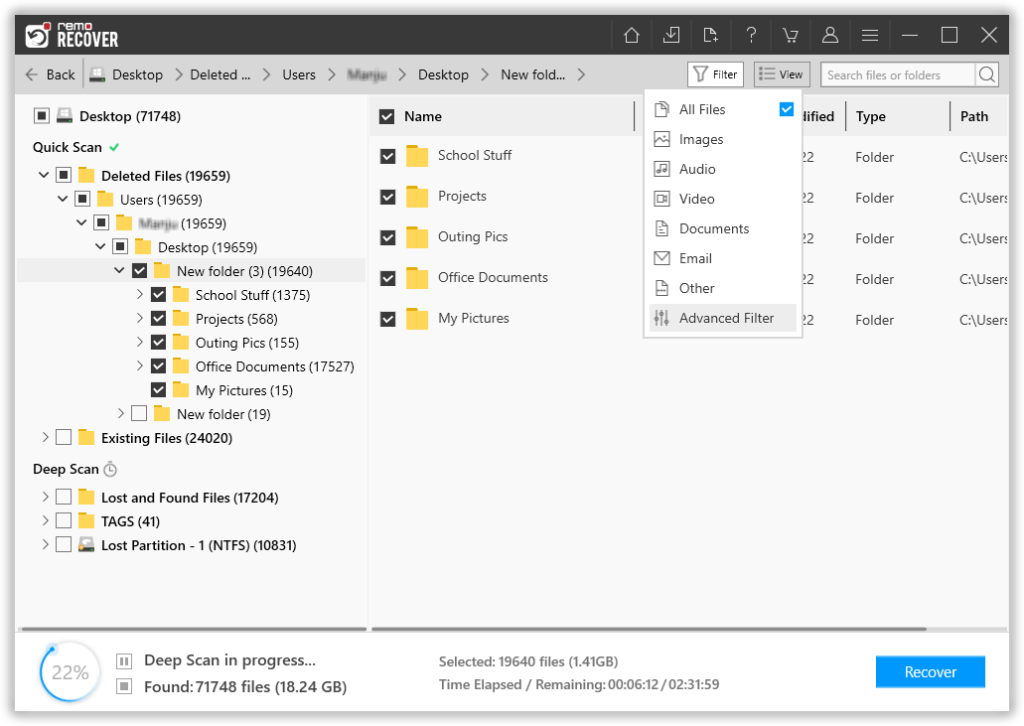 Step 5: Check the files by right-clicking over it.
Step 6: Then lastly, select the destination drive to store recovered data from SD card.
In addition to SD card recovery, this tool helps you in recovering deleted folders from Windows 10, Windows 8.x, Windows 7, Windows Vista, Windows XP and Server 2003 and 2008.